TVR is the leading distributor in Iceland for mobile equipment. The Company handles the distribution and service of some of the leading brands in the telecommunication and electronics industry.
The company was founded in 1992 and has grown to become Iceland's leading distributor and service partner for end-user equipment in telecom – primarily mobile phones, PSTN-phones and accessories, but also modems, set-top boxes and related products to be used with DSL and IPTV services.
TVR is a wholesale company and our customers include all major telecom operators in Iceland as well as the biggest retail companies for electronic equipment. Together with our retail partners TVR reaches virtually the whole of the Icelandic market – both the corporate segment as well as the consumer/residential segment.
TVR is a financially sound company with healthy operations and well adjusted balance sheet. The Company has been nominated as one of the strongest companies in Iceland by Credit Info, which bases its verdict on a variety of operational, financial and non-financial factors.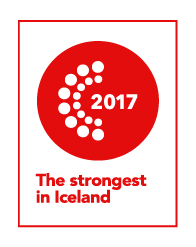 TVR is a privately held company, fully owned by Eignarhaldsfélagið Tækni ehf. (ID-no. 560211-0820).